We value our clients' experience at Westside Veterinary Clinic. If your pet or animal is currently a patient, please feel free to complete the following Client Experience Questionnaire. The Questionnaire is in Adobe Acrobat format, and requires the free Acrobat Reader to view.
Download & Print Questionnaire
HAPPY TAILS
The doctors and staff at Westside Veterinary Clinic are dedicated to providing the best possible veterinary care to your pets. This character translates into our ability to prevent and treat pet illness and injury at a high success rate. This page highlights some particular cases that serve as an example of the kind of care all pets get at Westside Veterinary Clinic.
BELLE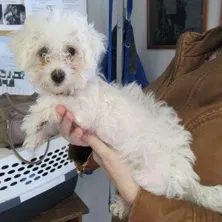 Belle just had heart surgery at the University of Missouri College of Veterinary Medicine. Dr. Brady diagnosed Belle with an inherited heart defect called Patent Ductus Arteriosus during her first puppy visit. The Ductus Arteriosus is a channel that allows blood to flow through the puppy's heart while still in the womb. That channel is supposed to close when a puppy is born so the normal circulation of the heart can take over. Belle's did not close and she could have died of heart failure. The surgeons at the college successfully closed Belle's open channel and she is back home acting like a normal puppy!
WOODY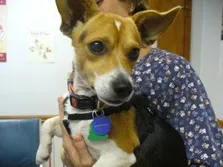 Woody, a mature male Chihuahua-Beagle mix, immediately stole our hearts when he visited for a swollen neck/jaw in 2011. He had a bite wound that lacerated one of his salivary ducts, causing extensive swelling from saliva build-up under the skin. Following surgery to remove the affected salivary gland, Woody was good as new! Now he visits us periodically for cookies and kisses. We are so happy for you Woody!!
---
NELSON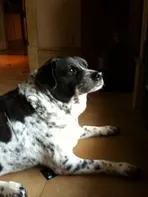 It's hard not to get excited over Nelson's story!!! Over time Nelson had developed arthritis in most of her joints, which prevented her from running and jumping due to pain. She was unable to be comfortably managed with oral and injectable arthritis control medications. The next step to give Nelson back her mobility was Stem Cell therapy. We obtained Nelson's own stem cells from her fat tissue for the entire process. We were thrilled with her response to this therapy. Now Nelson is able to keep up with her brother Stewart without any pain!
---
BARKLEY
Barkley, a young male Whoodle, was adopted by a loving family in the spring of 2007. Soon after his arrival home, he developed a cough and displayed extremely lethargic behavior for a three month old puppy. Barkley was suspected to have Kennel Cough, which is a contagious respiratory disease, causing a very painful cough and secondary infection. Barkley's grade of kennel cough was severe, meaning a large portion of his respiratory tract was damaged as visualized on his x-rays. He developed pneumonia due to the high degree of lung damage present. His extensive treatment included a combination of antibiotics and nebulizer inhalant therapy both in hospital and at home by his owners. Once he started to feel better, he began to act like a real puppy and was hard to keep quiet! Barkley was a trooper with his medicines and recovered well over a three week period. Now, Barkley is very healthy and is a frequent visitor of the Westside Veterinary Clinic's boarding facility.
---
RIVER
River, an adult male Labrador Retriever, was rescued by a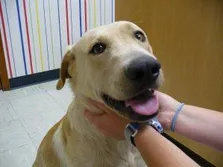 good Samaritan in the summer of 2008. He tested positive for Heartworm disease (left untreated this disease is fatal!!!) at his first check-up. He was treated for heartworms over a 2 month period, which involved keeping him extremely quiet and rested to prevent serious side effects after the treatment. It was a tough job for his rescuer to keep him calm for that long, because he was full of energy and ready to play! River now receives heartworm preventative once monthly to keep him heartworm disease free. Heartworm disease is spread from dog to dog by mosquito bites at any time of the year. As we have learned from River's case, it's very important to provide monthly prevention to avoid heartworm disease!
---
IGGY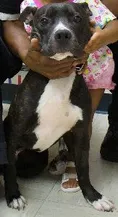 Iggy, a young male Pit Bull, presented on emergency to the Westside Veterinary Clinic with a fractured femur after being hit by a car. The fracture was too involved to surgically repair with a pin or plate, so he had to have the hind-limb amputated. Iggy proved to be a brave dog and recovered extremely well following amputation. Three days following amputation, Iggy was running around on three legs just as fast as he was on four legs! His ability to walk and run was not changed at all by the amputation, as is commonly experienced by other pets with only three limbs. Iggy's case reminds us of the danger vehicles pose to our pets, he was a very lucky boy in that his injuries were not more extensive!!!
---
ENID
Enid was a very young kitten when we she arrived at our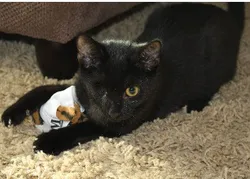 clinic. She presented with serious cranial injuries resulting from a dog bite. Enid's eye and jaw were also injured requiring removal of the eye and one of Enid's canine teeth. Aside from the severity of the injury, bite wounds carry significant infection risks, so Enid was given a very guarded progonosis. After surgery, Enid was hospitalized until the following morning to receive the veterinary care she needed to pull through her ordeal. During her stay she demonstrated great recovery, so she was ready to go home the following day. With her owner's help, Enid continued to run on her path to recovery and within a couple of weeks she arrived as a healthy kitten once again! She is now happy at home and growing up under the tutelage of her older brother Merton.
---
CHICO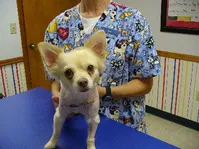 Chico is one of the sweetest Chihuahuas we have ever met at Westside Veterinary Clinic. He presented one night on emergency duty in shock because another, much larger, dog had attacked him. He had extensive wounds to the neck and chest. Many of his muscles were torn and crushed. It was even feared that he might not be able to walk on his right front leg because of the trauma to muscles and nerves. Chico remained in critical condition through the night, but continued to get stronger. He went to surgery the next day and all of his bite wounds were repaired, by draining and cleaning all injured tissue. Through it all Chico remained sweet and gentle...he never offered to bite us, despite the intense pain he was in. Now he is doing great and even walking well on that terribly injured leg!
---